Owner
Mike was born in Bath and raised in Phippsburg. He attended local schools and graduated from Morse, where he was involved in sports, a passion he has carried with him throughout his life. Mike attended University of New Hampshire before returning to attend law school at University of Maine, studying maritime law. After passing the bar, Mike returned to the Midcoast to practice law with his father, where he continues to practice to this day. He resides with his family in Topsham, and loves being a part of the local community. Mike is a driving force behind the beer offerings at Bath Brewing, and works closely with Brewmaster Pete on the development of our beer selections. Mike enjoys spending time with family, being active and enjoying a cold pint with friends.
Owner
The second of eleven children growing up in Brewer, Terry was an avid athlete and started his career in restaurants at an early age. After attending University of Maine, Terry moved to Bath in 1971 to be the assistant curator at the Maine Maritime Museum before ultimately opening his own business. The Shipmaster's Gallery is still going strong to this day, and Terry puts his expertise in both ship model construction and maritime history to good use worldwide. Terry met Co-Owner Mike Therriault during their weekly pickup basketball games at the YMCA, and the concept of Bath Brewing began to take form. In addition to his many professional accolades, Terry has always been invested in the Midcoast community and philanthropic work, serving on various boards from the YMCA to the Maritime Museum to the hospital. Terry is passionate about giving back to the community he loves, and giving locals and those from away a place to gather and make new friends. He can often be seen greeting customers in the brew pub, lending a hand to employees, sampling Pete's latest offerings, and ensuring that everyone is having a great time. Terry still resides in the same home he built some years ago overlooking Nequasset Lake in Woolwich.
Head Chef
Tony was born in Portland and grew up in the Wells area until his family relocated to New Jersey when he was twelve. His culinary career started in high school when he began working at Max's Station House. His passion for the kitchen grew, and he went on to attend Johnson & Wales in Providence, RI. Upon graduation, Tony took a Sous Chef position at Bula World Cuisine, a move that would send him on his professional path through the kitchen. After five years at Bula, Tony followed the ownership on their new venture to Salt Gastropub, where he would step into the role of Chef de Cuisine, a role he loved for his ten-year tenure with the company. While Tony had always enjoyed his time in New Jersey, he knew he wanted to settle back in his native Maine, so when the opportunity to come aboard with Bath Brewing came around, he knew it was a chance he couldn't miss. Bringing with him a vast culinary repertoire and a love for cooking elevated pub food, Tony has been the driving force behind the fantastic dishes at Bath Brewing, and enjoys the opportunity to bring new flavors to the menu. While he never thought he would be the first of his family to move back to Maine, he is happy to be settled back in his home state, and can't wait for the rest of his family to follow suit. When not in the kitchen, Tony enjoys taking in live music, meeting new dogs and spending time with family and friends. He has a wicked sense of humor, and keeps the crew on their toes with his quick wit.
General Manager
Mollie was born and raised in Bath before moving Woolwich. She attended local schools and graduated from Morse, where she was involved in athletics, music and theater. She graduated from Washington College with a BA in Philosophy, and began a long standing love of travel that would take her cross country. Mollie began working in restaurants in high school, a skill that she would carry for the rest of her career. The travel bug would take her to Colorado, Maryland, the Virigin Islands, Rhode Island and finally Louisiana where she spent 5 years. During her time in Louisiana, Mollie became part of the management team of a renowned contemporary Italian restaurant, Del Porto, on the Northshore where she was responsible for the bar and wine programs, as well as special event planning. While at Del Porto, their wine program was the recipient of multiple Wine Spectator Award of Excellence, in addition to numerous local honors. After their time in Louisiana, Mollie, her husband, and children decided to move back to their native Maine in order to assist with the opening of Bath Brewing Co. In her time away from the brewpub, Mollie loves attending concerts, sailing, camping and spending time with family. She loves being a part of this hardworking team, and raising her children in her hometown.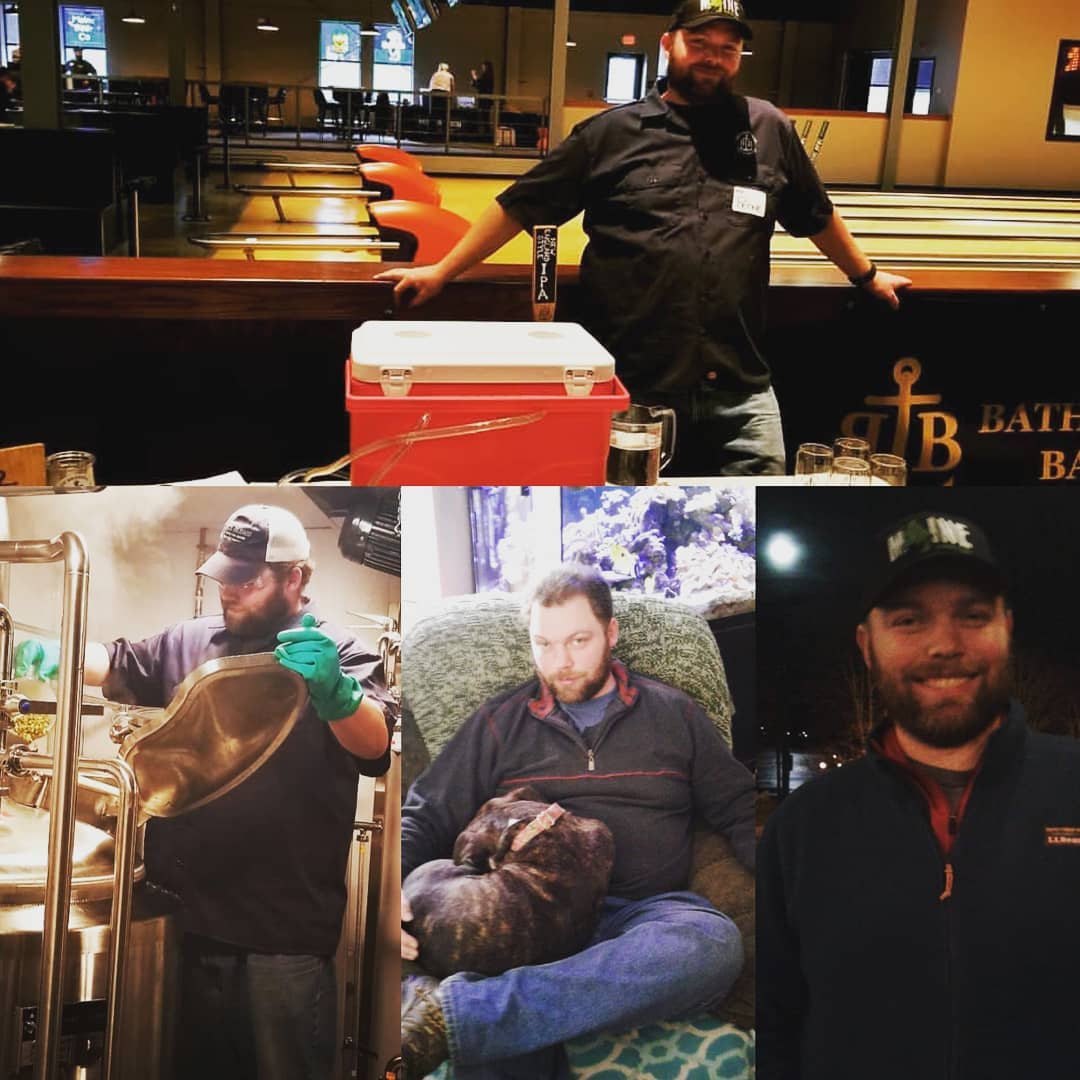 Brewmaster
Pete was born and raised in Standish and attended local schools before receiving a degree in Political Science from the University of Maine. Pete enjoyed homebrewing as a hobby until 2009 when he began his professional brewing career at Shipyard Brewing under Alan Pugsley. After starting off as a production brewer, Pete moved on to start up the pilot brewing program. In 2016, he accepted the position of Head Brewer at D.L. Geary Brewing Co, where he instituted their pilot system. And brought several new beers into production. Pete came on board Bath Brewing to be part of a like-minded team with a passion for great beer and food. In his own words, "Building a brewery from scratch to support the community that I have called home since moving here in 2010 with my beautiful wife (a Morse alum!) was an opportunity I couldn't pass up!". Pete can be found most days working diligently in his brewhouse creating new beers and perfecting his craft. While he prefers to stay behind the scenes, if you get a moment to bend his ear, he can't help but talk about his passion for beer! Outside of the brewery, Pete and his wife foster dogs for a local rescue group, and he is an avid sailor and music lover.